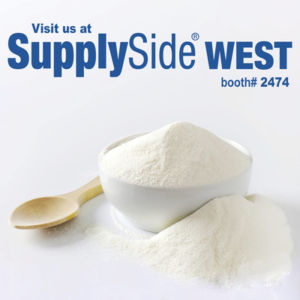 AMCO Proteins will be exhibiting at Supply Side West in Las Vegas between November 17th and 18th.  We will showcase BakePLUS, a unique blend of dairy proteins for baked goods and snacks, in delicious chocolate chip cookies. BakePLUS is designed to fortify baked goods and healthy snacks with protein without compromising taste, texture, or flavor with the following results:
Fortify with up to 3x the protein
Provide consistent rise with each bake
Provide desired texture every time
Eliminates unwanted protein flavors
 Maintain batter consistency each time
BakePLUS™ is heat stable, highly soluble and has been designed to resist gelling, prevent over-aeration of batters, and provide a consistent rise/life with each production. AMCO Proteins' team of food scientist and product developers have tested BakePLUS™ in many applications from cookies, brownies, cakes to savory biscuits. In each of these applications, a portion of the flour was directly replaced with BakePLUS™ to provide the added protein with the perfect texture, rise and baking consistency.
Visit us to sample cookies prepared with BakePLUS… Meet our protein experts to learn more about our all dairy proteins, protein blends and hydrolyzed proteins.