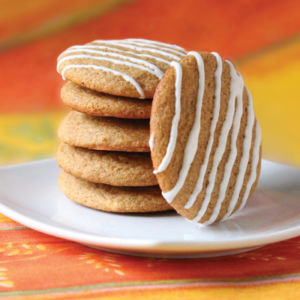 Baking with protein was challenging – until now. We've innovated a unique blend of dairy proteins that is designed to replace a portion of the flour while fortifying baked and snack goods with protein. At 80% protein by weight, BakePLUS helps developers achieve nutritional goals in their baked goods like cookies, pastries and cakes. We identified five main challenges that product developers are facing while innovating BakePLUS:
Meeting Nutritional Needs of Customers
Changes in Product Lift and Rise
Changes in Product Texture
Change in Flavor
Changes in Batter Consistency
Nutritional Needs of Customers
Protein continues to be a huge food industry trend while providing nutritional value to all products from ice cream, drinks, cereal to energy drinks. BakePLUS is designed to provide solutions for everyday products increasing protein up to three times in baked goods like cookies, cakes, brownies and muffins. The key was helping product developers achieve a balanced nutritional profile that their customers are craving while helping to avoid developmental pitfalls.
Changes in Product Lift and Rise
Fortifying baked goods with protein presents challenges to lift and rise, often over aerating the batters.  Too much whey protein isolate in baked goods create domes and unpleasant dry texture. Conversely, too little protein doesn't help the developers meet nutritional needs of their customers. Finding the right functional blend that mitigated product changes in rise and lift is pivotal to the ease and success of BakePLUS.
Changes in Product Texture
Adding protein to the baked goods presents challenges in water balance. With many ingredients (i.e. flour, sweeteners, fibers, protein) fighting to hydrate we needed to find the right balance of proteins that would mimic similar water absorption properties as other batter components. It was always a primary outcome when testing BakePLUS that the final baked good had similar moistness and texture to all gold standard products.
Changes in Product Flavor
Many proteins have unique flavors that are unpleasant, off and bitter. However, BakePLUS dairy protein blend is clean, slightly sweet and milky that has flavors which lend themselves to nearly all baked good applications.
Changes in Batter Consistency
Adding protein to batters would create changes in batter rheology. These changes can and usually have negative impacts on machinery and batter during the manufacturing process. Using BakePLUS at levels of up to 10% of formulations shows minimal impact on batter consistency, allowing manufacturers to use current processes and equipment.
Ultimately, BakePLUS was designed to ease the burden on food developers struggling to fortify a product with protein. In fact, we're so confident in the product that we're offering samples for your lab to use as well as starter formulas. Check out: www.amcoproteins.com/bakeplus to get started.
BakePLUS, a unique blend of dairy proteins, is the solution to fortify snacks and baked goods with protein. It prevents over-aeration and product rise/lift which occurs when protein is added to baked goods. • Highly soluble    •    Heat stable    •    Resists gelling during processing