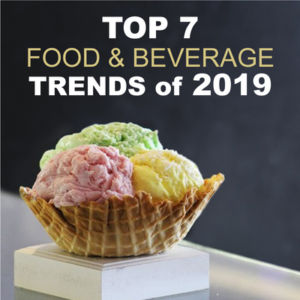 Each year the food industry huddles and tries to digest what's going on and predict what the next big trend will be based on previous years. As a leading protein company, it's important that we stay abreast of these trends, most especially when developing prototypes for our customers and presenting products at trade shows like IFT and Supply Side West.
Everywhere Protein
As more clinical research emerges touting the myriad benefits of a higher protein diet (high metabolism, better weight loss, increased fullness), we will continue to see the rise of protein-fortified foods throughout not only the USA, but the worldwide markets too. In fact, the whey protein market is growing at a compound annual growth rate (CAGR) of 7.5% and the milk protein market at 6.8% CAGR. Driven by millennials (21 – 34 years old) and boomers (50 – 64 years old), 2018 alone saw launches across various food segments from ready-to-drink coffees, frozen novelties, pastries, extruded snacks, waters and even iced teas featuring both whey protein and milk protein isolates. 2019 isn't expected to slow down the product launches – look for newer delivery methods such as protein-fortified fruit pouches and even energy shots.
Functional & Nutritious Waters
An up and coming trend in the bottled water segment is protein, alkaline and caffeine fortified waters. Several brands have launched waters that are fortified with 10% of more of the daily value for protein from whey protein isolate in enticing flavors like yuzu basil, guava nectarine and elderflower chamomile.  Other companies have also started to fortify their bottled water with caffeine and other botanicals, offering a calorie-free pick-me-up for consumers. Lastly, there's been an influx of waters boasting the effects of drinking more alkaline water (pH greater than 7), buffered with electrolytes like potassium, magnesium, calcium and phosphorus; expect to see more mainstream companies hopping on this buzzing thirst quenching bandwagon.
Shifting Sweetness Preference
Shift in sweetness palette will continue to impact the food and beverage markets in 2019. With the FDA mandating all companies roll out the new labels by 2020, companies will have to call out "added sugars;" this includes honey, syrups, sugars and fruit juices used as sweeteners. Consumers are very aware that added sugars need to be kept at a minimum (current guidance is less than 10% of total calories should come from added sugar). This label mandate will only bring more awareness to the issue. Look for a rise in products sweetened with stevia, erythritol and monk fruit. Our product development team has already been formulating with these all-natural sweeteners in applications like nutrition bars, baked goods and instant puddings currently used in the weight-loss nutrition space.
Plant-based Nutrition, Benefits and Libations
Other macro trends impacting the food and beverage industry is the continued rise in demand for plant-based nutrition, alcohol-free IPAs and even adult-beverages infused with various components of the cannabis plant. Consumers can expect to see more robust offerings featuring savory flavors like rosemary, lemon, saffron and Korean gochuchang. Continuing with 2018 weekly product launches featuring CBD, expect more libations to launch and feature flavors like hibiscus, rose, mint and basil.
Automation of Restaurants
2019 is set to see some big changes in the ways which we eat and procure foods. For example, quick service retails stores across the nation are bringing robotics and automation to their business. Driven by rising labor costs and diminishing availability, automating the food preparation also bypasses some traditional food safety concerns such as forgoing improper handling of foods and eliminating the possibility that an employee forgets to wash their hands. Some restaurants are even piloting automated mobile bakeries in an attempt to rebrand and redefine the food home delivery experience.
Nutrition & Dietary
In nutrition trends look for the continued rise and dominance of clean label ingredients. One particular trend is the blending of mushrooms with meat mixes, offering an alternative way to introduce plant-based nutrition into the omnivore's diet. Also, under this nutrition trend are the foods that will comply with dietary protocols like Keto and low FODMAP (fermentable oligo-, di-, mono-saccharides and polyols).  AMCO Proteins' Milk Protein Isolate, Whey Protein Isolate and Whey Protein Hydrolysate can be formulated to adhere to both of these dietary protocols.
Flavor Trends
International flavors are still the buzz and will continue to be moving into 2019. Consumers are demanding more adventurous flavors and want to tantalize their palettes with both bold (spicy) and subtle (floral) flavors. Savory protein-fortified snacks flavors such as Thai curry maple, Korean gochuchang honey and rosemary olive oil will make their way into consumer's hands. Coffee beverages and alike are expected to see a pivot from the nostalgic pumpkin spice late and traditional café mocha to bold flavors like masala mocha and white chocolate juniper. The excellence in these flavor combinations is that they marry the idea of international flavors with familiar indulgences (i.e. mocha, white chocolate); look for these flavor combinations in barista shops and bottles in the aisles. Flavored waters and seltzers are another segment exploding with floral combinations such as basil lemon, hibiscus chamomile and lavender chamomile.
Predicting the next big "pumpkin spice latte" will be challenging, but all roads seem to point to one flavor making a huge impact: Maple. Maple is a flavor that is nostalgic to many and lends itself to many applications from sweet to savory: from oatmeal (maple brown sugar) to nutrition bars (maple walnut), to savory creations like smoked maple and bourbon brisket sandwiches to sweet/savory combinations like maple and bacon glazed donuts. One thing is clear – the industry continues to shift towards cleaner labels, bolder flavor combinations with a huge focus on international taste. As the world's flavors continue to converge onto the American palette, consumers will continue to demand cleaner labels combined with superior and innovative flavors to keep their interest piqued.
To learn more about AMCO Proteins' full line of protein ingredients and solutions, Contact Us today.