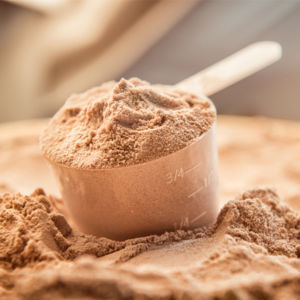 Protein hydrolysates are gaining momentum in the product development space owing to their unique digestive properties. Often hydrolysates are not only easier to digest since the proteins have been broken into smaller peptide chains, but they're also more absorbable, making them efficient sources of amino acids. However, a side effect of manufacturing hydrolysates is that they are typically bitter; sometimes so bitter that no amount of flavor or sweetener can overcome any appreciable amount in an end-product formulation. But this challenge is currently being undertaken by one of our food engineers, Josh.
The mission for Josh was to first identify key parameters that we know affect the end-bitterness profile – parameters like the substrate pH, the type of enzyme, the length of reaction time and enzyme dosage are just a few. However, looking more closely the ones especially of interest are type of enzyme and reaction time. Josh has constructed and executed several benchtop experiments on various dairy proteins (whey protein concentrate and whey protein isolate) that are structured to evaluate end-bitterness on the protein digest prior to moving on to be dried. To date, he's made great progress that has given us insight in 5 key areas:
Ideal measurements for end-of-reaction stop points
Enzyme selection based on parent protein
The effects of enzyme selection on end-product bitterness
Improvements in protein hydrolysate thermal stability
Improvements in protein hydrolysate dispersion in aqueous solutions post drying
Ultimately the information learned from our internal studies will be applied towards future specialty ingredient development as well as custom hydrolysis development. As part of this series of studies our goal is to provide a line of dairy protein hydrolysates that are the cleanest, most functional and least-bitter hydrolysates available on the market.